DON'T FORGET TO CHECK OUT THE WINNER'S LIST FOR

THE 3RD ANNUAL JKTS AWARDS BY CLICKING

HERE.




BEST MUSICAL:

Kinky Boots

I'm not surprised at all. And good for them. I'm not going to make any sour grapes comments. As long as it wasn't

Scandalous

.


Once

- Why?




BEST SCENIC DESIGN:

John Lee Beatty

-

The Nance

It truly is a sight to behold.

Rob Howell

-

Matilda

Only

Pippin

really came close, but not really. That set is as magical as the little girl in the middle of it all.


Kinky Boots:

"Everybody Say Yeah" Nice closing number for the Tonys! And a very fair representation of what the show really is. Maybe I'll get to see it again in a few years...


BEST LEADING ACTRESS IN A MUSICAL: Patina Miller

Sincere. Nervous. Let the backlash begin. (Even though we all know she deserves it!)


BEST LEADING ACTRESS IN A PLAY: Cicely Tyson

A stunning speech. Class personified. She's ready for her close-up, Mr. DeMille.


BEST LIGHTING PLAY AND MUSICAL: Peggy Eisenhower and Lucky Guy

. The only thing I remember about that show, really.

Hugh Vanstone

the lighting of

Matilda

was truly magical.


IN MEMORIUM:

"True Colors" is the perfect underscore for this tribute. What a great performance by Cyndi Lauper.

*** Matthew Broderick is a sour puss.




BEST LEADING ACTOR IN A PLAY:

Tracy Letts

I guess it is time to re-think the whole"if it is closed, it can't win." That's 3 so far.




BEST LEADING ACTOR IN A MUSICAL:

Billy Porter

a gem. Best speech of the night.

*** Do you think Mike Tyson gets that Neil Patrick Harris is teasing each time?


The Phantom of the Opera:

The only good song in the score (IMHO) and a good version to boot.

Harold Prince

the living legend. Enough said.




BEST BOOK OF A MUSICAL:

Dennis Kelly

Matilda: the Musical

A triumph of book writing, so glad that the Tonys recognize quality.




BEST REVIVAL OF A PLAY:

Who's Afraid of Virginia Woolf?

Man, I wish I had seen this one


Pippin:

"Corner of the Sky"/"Magic To Do" Despite some shitty TV cuts,

Pippin

still rocks the place! And can

Matthew James Thomas

get any cuter?


A Christmas Story:

"You'll Shoot Your Eye Out" Another show that puts those

Annie

urchins to shame. And how much cash do those producers have? They flew

Caroline O'Connor

all the way in from Australia! Start selling tickets for that return engagement NOW!




BEST PLAY:

Vanya and Sonia and Masha and Spike

Any bets on how long before they announce a longer run? Well deserved!

Christopher Durang

gets played off? BOOOO!




PLAY MONTAGE:

A decent way to do it, I guess. But if there's time for

Motown

and The Rascals

, there should be more time for plays. SLOW DOWN, Jesse Eisenberg


TheRascals:

Even with a cheesy montage, they are better than

Motown

.




FEATURED ACTRESS IN A MUSICAL

ANDREA MARTIN -

Pippin

A shoo-in, but deserved!




Cancelled Shows

AWESOME! Come back, Megan, Andrew and Laura!




BEST CHOREOGRAPHY:

JERRY MTCHELL -

Kinky Boots

I can live with it.


Annie:

"Hard Knock Life"/"Little Girls" - Showing off that fossil's best assets were a wise move.

Jane Lynch

even off key is better than

Katie Finneran

. But let's face it, Matilda is the new Annie.




BEST SCORE:

CYNDI LAUPER -

Kinky Boots

Genuinely shocked and pleased. Gracious. i'm crying like a fool...




BEST ORCHESTRATIONS:

STEPHEN OREMUS -

Kinky Boots

, see my notes for Best Sound. This award always goes to best score...


Motown: The Musical:

"Get Ready" Didn't

Hairspray

do this number 10 years ago? Or am I thinking of

Memphis

? So far, the least inspiring of the numbers...




DIRECTION OF A PLAY:

PAM McKINNON

-Is this the first time both Best Directors are women? She's a riot! Breathe, honey.




DIRECTION OF A MUSICAL:

DIANE PAULUS -

First win! Most deserving! If she hadn't won, there would have been a riot at Radio City.

**Can we pause and reflect on the cute red-headed guy next to

Jerry Mitchell

?




SOUND DESIGN:

JOHN SHIVERS -

Kinky Boots Leon Rothenberg

-

The Nance

Just proves that no one who votes knows what sound design is. Both had long stretches where the sound was muddled when I saw each.


Cinderella:

"It's Possible"/ "The Ball" The perfect representation of what this show is... performance, spectacle, great stars! can't wait to see it again!




FEATURED ACTOR IN A MUSICAL:


GABRIEL EBERT -

Didn't see that coming! He was good. Congrats! Cool speech - real, humble! The guy I'd like to be friends with.




COSTUME DESIGN:

ANN ROTH

- the costumes for

The Nance

were awesome!

WILLIAM IVEY LONG - Cinderella's

costumes were/are stunning and magical.


Bring It On: The Musical:

"It's All Happening" Great intro to the show... geet those teens begging to see this/do this show! I miss this show!


BEST FEATURED ACTRESS IN A PLAY
JUDITH LIGHT -

One of the greatest contemporary actresses. Classy woman. Did she forget anyone?

Neil's mash ups... funny and timely... I love him hosting...


Matilda:the Musical :

"Revolting Children" I'll say it again, it looks like "Bitch of Living" and "Totally Fucked" as performed by kindergartners. Effective as hell! And "When I Grow Up" makes me cry every time I hear it...


BEST FEATURED ACTOR IN A PLAY
COURTNEY B. VANCE -

Nice, classy speech. Was this a surprise?





THE OPENING NUMBER




Shia LeBeuf joke, check. "Let's Make It Bigger (Go, Neil, Go)" Best sport... Mike Tyson. Les Miz movie joke, check. 8 times a week, check.

Best Opening Number Ever.




RED CARPET THOUGHTS

Dear NY1, Your coverage of the Red Carpet for the Tony awards was a disaster. Embarrassing. Inept. A quartet of idiots that, were I a journalism teacher, I'd make students watch this as an example of what NOT to do. Thanks for nothing. Jeff

7:27: Who is

Laura Asmus

?

****

7:18: How much do you want to bet that the NY1 guy has no idea what "arduous" means? (Kudos to

Alan Cumming

for shutting him up mid-question.)

7:19:

Cyndi Lauper

is so sweet. She has to be sick of answering "What is it like to do your first musical? Is it exciting?" Her process is so honest.

Harvey Fierstein

and Cyndi love

Jerry Mitchell

! Her work ethic is inspiring.

****

7:06: I like the Tony Honors Award better than the actual Tony Award. Is it just me?

7:10: I have to admit... I don't know if I can go another 50 minutes of this inanity...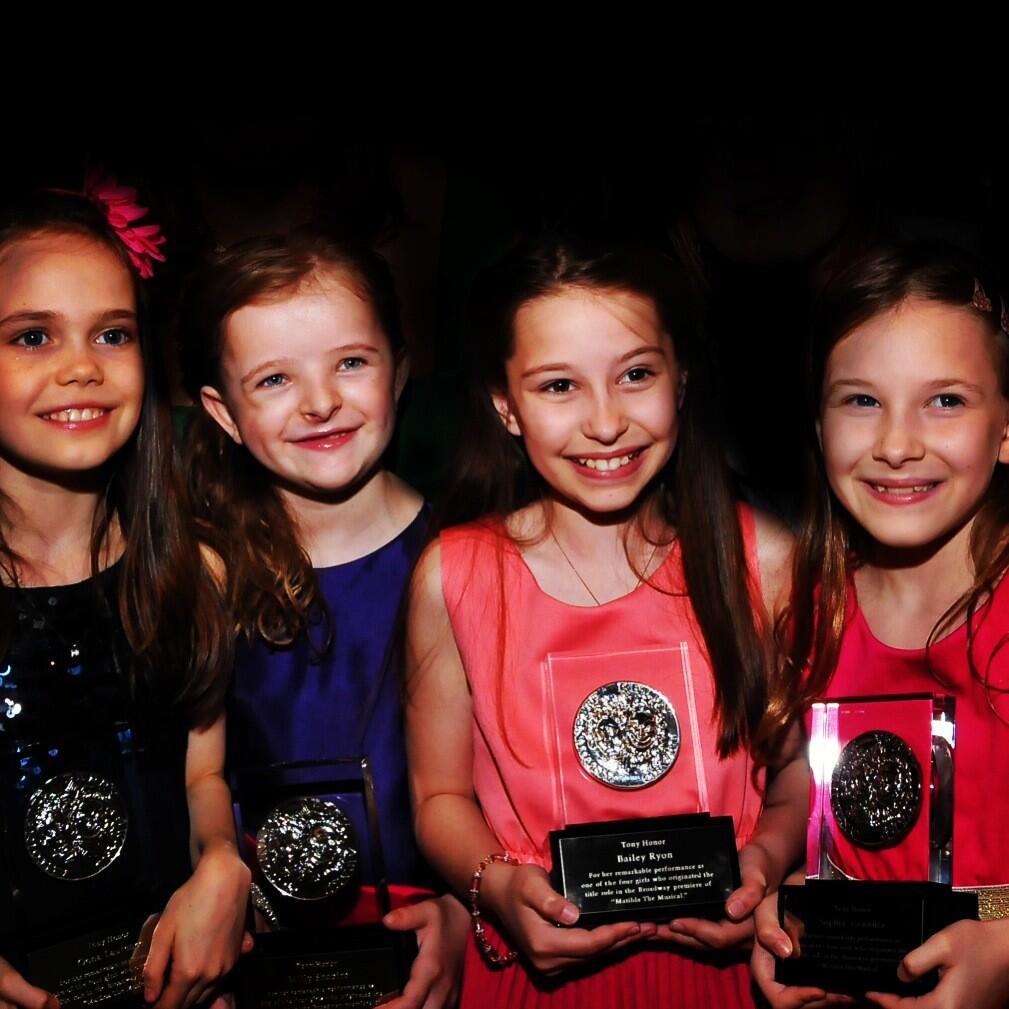 ****
6:53: I'll give credit where credit is due... the NY1 people managed to get decent stuff from
Mike Tyson
.
6:55:
Laura Osnes
looks amazing! Another gaffe by the interviewer, "What's it like to wear white tights, Santino?" He doesn't wear tights in the show.
Santino Fontanna
is puppy dog cute!
I want to bite
Zachary Quinto
.
6:59:
Pasek and Paul
are living Broadway professionals that act like real honest to God Broadway fans! I love them even more every time they talk! Happy birthday, Benj!
Matthew Morrison
says he wants to come "home" to Broadway. Hollywood, maybe, isn't all that...
****
6:37:
Charl Brown!
You go, gurl!
Velisia LeKae
is so pretty in purple. She successfully navigates the "Did you have relations with
Diana Ross
?"
6:40:
Jerry Mitchell
looks like a Sardi's waiter. A very handsome waiter. Finally, an interesting question about the treadmills in "Everybody Say Yeah!"
6:44:
Roma
, we are so thrilled that you feel that you can call
Victoria Clark
"Vickie." Clark's gown is a lovely white thing designed by none other that
William Ivey Long
.
6:47:
Kristine Nielson
is another terrific person. How can you not love her? And
Maggie Smith
is one classy dame!
David Hyde Pierce
is, dare I repeat myself so much, a classy SOB!
****
6:23: I'll say it...
Ben Fankhauser
and
Cory Cott
are soooo adorable! Their enthusiasm for
Newsies
is infectious!
6:25:
Christopher Durang
successfully deflects the awkward "You were in an acciddent..." question. The beautiful
Laura Benanti
is STUNNING. Blue is her color!
6:28: Congratulations to
Tracy Letts
and
Carrie Coon
on their engagement! Too bad the news wasn't supposed to go public...
6:30:
Tom Hanks
is a pro. His eyes say, "this man with the mic is a tool," but his mouth is saying everything just right. Tom is answering his question, while the guy with the mic has it steadily on
Rita Wilson
. I love
Tom Hanks
...
****
6:06:
Rob McClure
is so cute - his wife, too! Great story about his aunt and Charlie Chaplin! Can't wait for
Honeymoon in Vegas
!
6:08:
Carolee Carmello
, graciousness personified. And all that
Scandalous
awkwardness is over!
6:09:
Diane Paulus
is great for answering the same old questions about
Pippin
... she must be of tired of telling us that she wanted to "keep the Fosse and join it to the world of the circus."
6:12: Interviewer calls
Will Chase
"Will Anderson." Can't wait for
Little Miss Sunshine
. Meanwhile,
Shalita Grant
is as great in real-life as she is onstage!
6:17:
Judith Light
is fabulous! Interviewer tells Judith that she won the Tony for
Lombardi
. She doesn't bat an eye. Classy! Good for her deflecting the Jewish question, and recognizing that the play is universal!