I am so thrilled to bring you this interview with long-time friend of this site,
Alex Wyse
. One of the great pleasures of the privilege of years of seeing New York theater is discovering an exciting talent and then watching it take off and blossom into an honest-to-goodness successful career. Such is the case with Alex, who first caught my eye off-Broadway in
Lysistrata Jones.
We've run into each other a couple of times over the intervening years (though i'm sure he doesn't remember!), and now it is wonderful to chat with him again. His talents have taken him far on Broadway, off-Broadway and regionally. He's been on TV many times - including a year on
The Bold and the Beautiful
- and is even part of the Marvel Universe!
Today, we talk about where we left off: his off-Broadway stint in
Bare
, his time as a Munchkin, Ted Danson, the soaps, and being in a Marvel show. PLUS: He answers some of
your
questions! Enjoy!
So much has happened since we last chatted! I can't believe it's been 7 and a half years!
My goodness, I can't believe it's been seven and a half years and I still haven't succumbed to the horrors of show business. But truly, I am so glad to get a chance to chat with you again!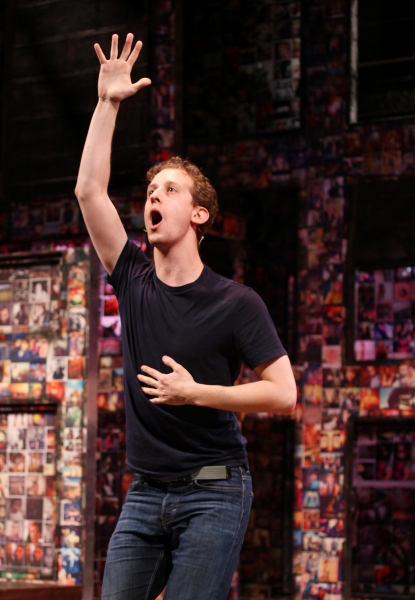 Last time, you were just getting ready to open in
Bare
. How was that experience? Did you ever get to go on as Peter?
Yes, back then I was just about to open
Bare
, and it ended up being such a special experience. I made great friends from that show (shout out to
Michael Tacconi
who plays Aaron in "Indoor Boys"), and mostly I was happy to be a part of something that people
connected
to. I did end up
playing
Peter a number of times! It was a big challenge, and big shoes to fill (shout out
to
Taylor Trensch
, who continues to be one of the best actors I know),
and
I was thankful to have the opportunity to step into the story from multiple perspectives. Peter's a great part. I'm only sad I didn't get the chance to play Peter's mom.
The cast of Bare (left); Alex and Michael Tacconi (right)
When you do new things, you seem to "go big or go home." Your first First National Tour was with
Wicked
as Boq!
I'm glad it looks like I go big or go home. Currently I'm going home. Hoping to go big again soon. Yes, being a part of
Wicked
was great. I remain a huge fan of the show, which is no small feat after having been in it. So often, we
must
leave our fandom at the door
in order
to our jobs. But with
Wicked
, while I certainly lived the realities of it being a job, the show never lost its magic. Except for those no-fly shows. No just kidding. Those never happen. Is press readi
ng this?
Biggest challenges?
Any good stories?
Okay, a favorite memory -
waiting off-stage left to enter for "Loathing," and getting to watch the end of "Wizard and I" every night. Sometimes
Jennifer Dinoia
(who played Elphaba
at the time
and remains one of the most brilliant actors I've ever seen do the role) would catch my eye and do a fun riff and I'd think… "Oh my God.. that riff was for me."
Biggest challenge: tour can be lonely. So it's good time to work on
writing that
play
.
Switching for a moment to television… You've done some great guest work on several TV series -
Modern Family, Masters of Sex
. What is it like jumping into an existing show, then jumping right back out?
The biggest challenge of being a guest on a TV show is that you are
literally
a guest. You arrive in the middle of their process, they all have a longstanding rapport with each other, and you have to quickly
assimilate and
learn people's names
, learn
how this particular set operates,
and still
deliver a performance with ease like you've been working wit
h this cast and crew since day one
. It's like walking into someone else's home and being expected to know where they keep the silverware. It can be rather scary. So it takes a lot of self-encouragement to get through those
days
.
What has been your favorite so far and why?
I've had so many different kinds of experiences, some good, some not so good. But one of my favorites was my very first: working on
Bored to Death
playing
opposite
Ted Danson
. I was also in scenes with
Zach Galifinakis, Jason S
chwartzma
n,
Isla Fisher, Jim Gaffigan
- it was wild!!
This
was
my
very
first
television job
,
and Ted
, especially,
showed me a lot of the ropes and taught me how a set works. He was invested in getting to know me, he was
so
present for my scenes, and he helped
to
ease my
nerves. I was very lucky to have that as my first TV experience
.
I hope I can work with him
one day
again to thank him for the huge impact he made on me.
Then there was your stint on
The Bold and the Beautiful
. 66 episodes! Tell us about the soap opera process. Might you ever go back?
Bold and Beautiful! Can you believe I did a year on a soap opera? I never expected that
to come into
my life, but wow I am thrilled I got to do it. Some of the hardest working actors I've ever met. Can you imagine learning and filming
thirty
pages of dialogue a day? It's insane! But that's what happens on soaps, and it's incredible to watch and be a part of. I loved how the filming process felt close to theater. On
soap
sets, you aren't breaking up the scenes and slowly shooting different coverages
and angles
the way you would with a regular television show. This was more like doing a little play in a storefront set. We'd block it, rehearse
it
, quickly shove our script pages into drawers, film the scene two or three times
with three cameras filming all at once
, and then
we'd
move onto the next scene as
fast
as we could. It was a very exciting time. And if they ever asked me back, I'd hop on the first flight to LA.
With a stint on Marvel's
Iron Fist
, you are part of the MCU! That is so cool! For anyone who hasn't seen it, what can you tell us about how your character fits in the story? Anything unique about that experience?
I have a knack for playing assistants, it seems, and this time I got to be
the brilliant
David Wenham
's assistant
in the show. Here's what's important: He played the villain, and I
wore
GREAT clothes
. What was unique about that experience was my final episode. I don't want to spoil anything in case
any reader
wants to watch it, but… ice cream was never the same
after that
.
5 Quick Questions from Our Readers
I hope I
get to do a play on B
roadway
. I love musicals, but I'm an actor first, and I want to show the world!
What book(s) are you currently reading & recommending?
I just read Two Boys Kissing by David Levithan. It's a Young Adult novel
that was heartbreakingly beautiful
.
If you weren't an actor, what career would you like to try?
Current show, on- or off-Broadway, you'd love to be in?
Harry Potter and the Cursed Child
Team Elphaba or Team Glinda?
Team Elphaba for the songs, team Glinda for the scenes
Next week: Part II: Alex talks about being a Broadway producer, Spring Awakening, his stint in Waitress, and his award-winning web-series Indoor Boys.
#2192