Thoughts from my recliner on last night's festivities... a night full of pleasant surprises...
BEST MUSICAL NUMBER:
"For the First Time in Forever/Let It Go" from
Frozen
. So why was it on at 9:30? And "Mama Will Provide" from
Once On This Island
...plus 2 goats, a chicken and a sand pit. Maybe we can stop bitching about how cheap the producer is....
BEST HOST BIT:
Theater kids pics...a very cool age-of-social-media thing! But the truth is, I loved everything Josh and Sara did.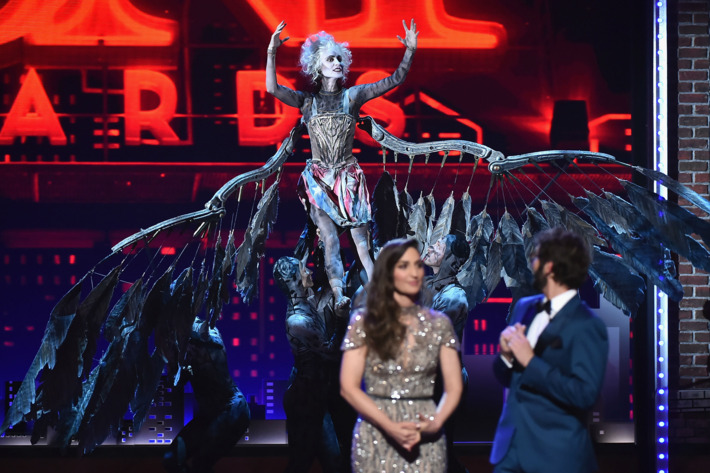 BEST SPEECH:
Lindsay Mendez
for
Carousel
. Her heartfelt exuberance is what this should always be about.
Glenda Jackson
a true class act.
BEST PRESENTERS:
Tina Fey
, introducing
Mean Girls
,
John Leguizamo
, and
Robert DeNiro (#@$$%#)
BEST UPSET:
Laurie Metcalf
winning Featured Actress in a play for
Three Tall Women
BEST HOST NUMBER:
"This One's For The Losers" Smart, sense of humor, self-deprecating...it fits their wheel house perfectly.
PERPETUATING OF STEREOTYPES:
The Broadway is all jazz hands, tapping and kick lines of "I Am Not A Loser" from
SpongeBob SquarePants
BEST INSIDER MOMENT:
The "8 Times a Week" parody set to Sia's "Chandelier"
PLAY OFFS:
2
THANKING THE OTHER NOMINEES:
3
THANKING THEIR CAST:
11
THANKING THEIR THEATRE:
3 (all 3 thanking the people at the Neil Simon)
POLITICAL STATEMENTS:
8
AWARD I WISH WAS TELECAST:
The Excellence inTheatre Education Award:
We always say we value education, but do very little to support that value. Just like actors, playwrights, etc. often talk about dreaming of Broadway because they saw the Tonys as kids, couldn't televising this award inspire future teachers? I'm sorry. A seat shot is simply not enough. On the other hand, watching the fruits of the teacher's labors is a wonderful tribute to her.
Rachel Bloom
... just...no...
OVERALL GRADE:
A